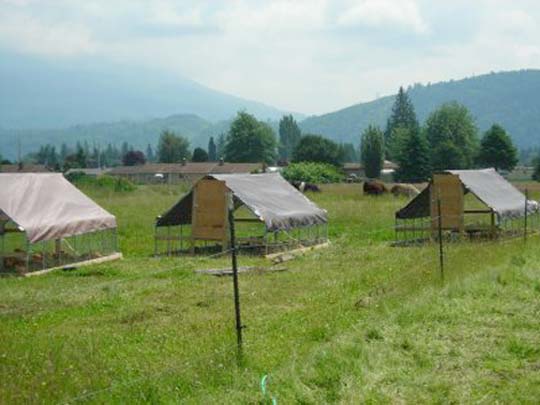 Who We Are and What We Stand For
Akyla Farms is Kevin and Carol Osterman. We started this farm in 2006 to bring pasture raised chicken, pork, beef, and goat from livestock that has never been fed animal products or industry waste. The beef and goat will also never be fed grain to maximize the health benefits of conjugated linoleic acid and omega-3 fatty acids. All of the animals have a healthy, clean contented life. Although we are not certified organic, our animals will not get drugs in their food but if one is sick or injured we will use the appropriate amount of medications to return it to a healthy, clean contented life. If you are interested in learning more about our local, family farm please feel free to contact us.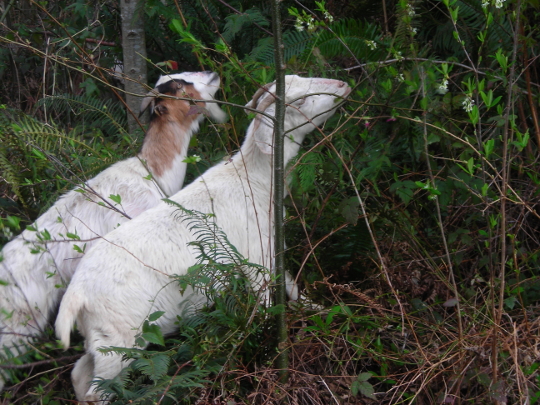 Goats for Hire
To be the talk of the neighborhood and manage your brushy vegetation have the goats come stay on your property more
Newsletter
The World is a Changin'
Its been a busy year since the last newsletter supporting I-522 for the labeling of GMOs which unfortunately lost by a small margin. But Hawaii has made progress by banning the growing of GMO crops, General Mills announced that Original Cheerios will be GMO free and Ben & Jerry's has started removing GMO materials from their ice cream and labeling those that still contain them. The tipping point is near. The GMO fight was only a small part of our year. The daily chores, making improvements (changing the meat birds from a trough waterer to nipples on tubes thus giving them cleaner water and making their pens easier to move), vehicle and house maintenance and the catch-all list of other things make for a busy year. Over all there is time for family, some fun along the way, a lot of work, and many of those little moments to admire the passing wildlife or just watching the sunset. Over all it was a pretty good year, here are some highlights. more


Poultry & Pork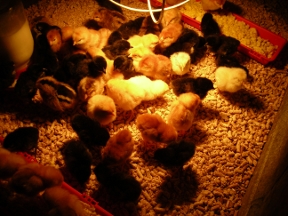 Layers:
Our laying flock is representative of the home flock in that we have a wide variety of breeds (about 10) of chicken, along with a few ducks and a goose.  We like the variety as it does make it easier to watch individuals and we allow the birds to live out their lives with us as we see the older birds as being wiser in that ongoing predator/prey story. The laying flock recently moved to new quarters and we are searching for a trailer to convert to a portable eggmobile so the flock can enjoy fresh pasturage along with their organic, non-GMO, soy free feed.  They also polish off leftover organic vegetables, fermented foods and some meat from the house.

Pastured Meat Chickens: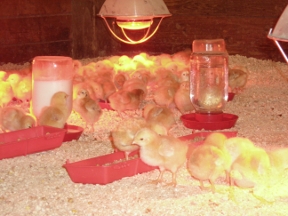 We have been raising chickens for meat since 2006, using the Freedom Rangers for the last several years. Freedom Rangers are what is called a terminal cross of different breeds. This helps to give the birds hybrid vigor which allows them to grow better than their parents. We also like this breed because they do more than just go from feeder to waterer and back. They graze fresh pasture daily once they come out of the brooder and many take short flights in their pens.
The chickens eat an organic, non-GMO, soy free feed along with whatever grasses, forbs and bugs they find. They also occasionally get some surplus goat milk from our milking does. They are not vaccinated or given antibiotics at any time. If medical treatment is needed Homeopathic is the preferred modality.
To minimize stress on the birds we process our chickens here on the farm where they are raised under the WA State Department of Agriculture Pastured Poultry Permit. We use our own stainless steel equipment that is cleaned before and after every use. Quality control for processing day starts with deciding which birds to process first and does not end until you pick up your birds. The rare bird that comes through with plucker damage or had an injury is kept by us for our use.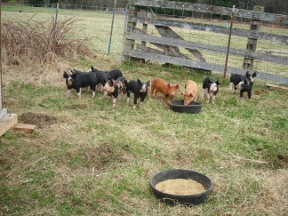 Pastured Pork:
Each spring we purchase 10 weaner pigs from a local pig farmer that we raise on organic, non-GMO, soy free feed in a pasture setting. The pigs are a Berkshire cross. This breed is known for its wonderful flavor and eating experience and has been used for many many years to enhance other swine breeds. Once the weaners are settled in they enjoy fresh pasture on a regular basis depending on how fast they utilize their area. We use portable electrified netting to keep the pigs where we want them and be able to efficiently create new areas for them in the tall grass, Japanese Knotweed and blackberry patches.  Along with their pasture and daily ration of organic grain they also receive occasional organic produce, surplus eggs from the laying flock and some milk from our dairy does. Other than the initial trip from picking them up at the breeder's we do not transport our pigs. This minimizes the stress they go through thereby keeping the quality of the meat high. The custom butcher comes to the pigs on a date scheduled 1-2 months in advance. By using a custom butcher, you get to select the cuts of meat you like in the sizes that fit your family and special occasions you may have.
Features/Benefits
Cleaner processing, openness of product information, supporting small family farm, consuming a healthier product from an animal that is fed healthier as you are not just what you eat, you are what your food eats.
Life Cycles/Seasonality
Grass-based livestock production is in the rapid growth area. We will be increasing production as we are able to and still keep up the quality.
As grass is seasonal so are our products. In order to provide the best quality/eating experience our stock are slaughtered on their timeline.
Unmanaged Rotational Grazers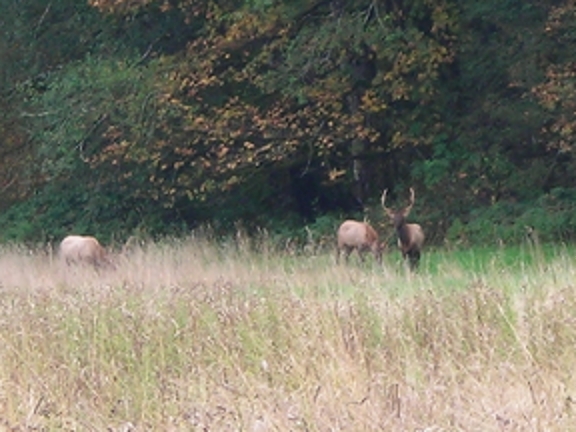 Elk on the Birdsview property.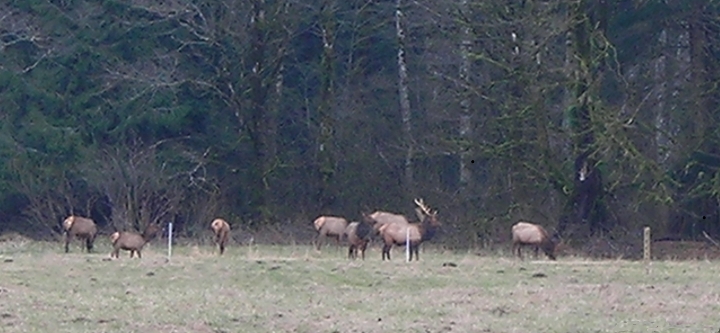 More of the herd.
We regularly see up to thirty head as they wander around the Birdsview area. Fencing gets the brunt of the elk damage but by using high tensile, electric that we specifically installed with the elk in mind we do very little repair. Probably in the $20 per year range. Our gates get the worst of it. The elk don't stay in one spot long enough to make a major impact and its rare that we have to adjust our grazing plan around their consumption.
Meat birds transitioning out of the brooder.
This is a cool picture of the pasture pens for the meat chickens. We have found that the transition from the brooder to the outdoor pens is scary for the birds so we provide them a little light to make the transition easier.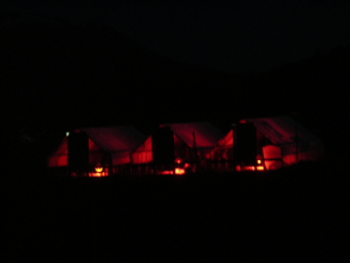 Heat lamps in the meat bird pens.